Managed Care
We Understand that the Timeliness of Credentialing Affects Your Bottom Line.
---
Failure to become credentialed is the most crippling mistake that any provider can make.
Without being credentialed, providers will not be paid with the health care plans whom are regulated by The State and Federal Regulatory Agencies and the National Committee for Quality Assurance.
Managed Care Office
Contract Network
Managed Care Contract Network for Membership.
While we are not a managed care company, we have professionals on our staff who focus on this service.
The University Physicians' Association (UPA) is dedicated to negotiating fair and equitable contracts for our physician shareholders. Governed by a physician-led board of directors and its own committees, UPA seeks to contract with a wide range of insurance payers on our members' behalf. UPA physician shareholders actively participate in the contract process by providing insight into their practice patterns and interaction history with our carriers.
Consecutive membership growth since 1995.
Unified physician voice through active committee participation.
Over 20 leading carrier contracts.
Strong network of membership with East Tennessee's area beneficiaries.
At UPA, we strive to provide assistance as an escalation resource when issues cannot be obtained through normal processes. UPA actively provides communication to its members to enhance the understanding of carrier policies and UPA contractual agreements.
---
Accessibility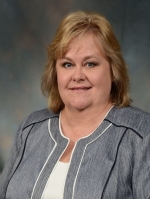 Mitzi Vaughn
VP, Contracting
Office: 865-670-6179
mvaughn@utmck.edu
Carrier News
UPA's Essential Services:
We offer special credentialing services to clinicians in and out of our network. UPA Essential Services includes:
Completion of credentialing.
Applications with various health plans and timely follow-up until credentialed.
Assistance with obtaining CAQH ID.
Assistance with obtaining NPI.
Coordination with the hospital for your updated documents.
UPA organizes your current CV; Tracks expirables; Maintains entities; Reports your CME activity; and Updates carriers with practitioner changes.
CAQH acts as a clearinghouse of information where managed care organizations retrieve information. Providers are responsible for independent credentialing and contracting with the carriers.
---
CONTACT:
865-670-6750
upamanagedcareoffice@utmck.edu
---
Additionally Provides Assistance With:
CAQH
CAQH Solutions
Medicare Applications
Medicaid (Multi-State) Applications
Multiple Managed Care & Carrier Applications
US Department of Labor
Black Lung
Federal Employees
Energy Program
Additional Miscellaneous Carriers
We are also equipped to assist with these additional services:
Credentialing
Recredentialing
Onboarding New Groups
Adding New Providers
Location Changes
Revalidations
Revenue Cycle Management
Co-Employment Services
Practice Management