Happy Doctors' Day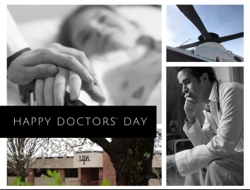 Mar 26, 2020
I don't think there are enough words to describe our true gratitude toward them.
At minimal, they have spent 15 years of their adult lives specifically devoted to education in health, research and wellness. At some point along their path, they chose a specialty. An area of focus. A passion within. You can call it compassion, teaching, research, oath, gift or many other things but I believe the correct term for us today, is hero.
They deliver good news, bad news, and many uncertainties while bearing the burden on their shoulders. With a steady hand and a strong arm yet not batting an eye, they look in the face of death and stand in awe with the miracle of life.
They listen to descriptions of our aches and pains and offer us good direction. Consider as you may grow tired of waiting on them for an appointment, they are booked, back-to-back with patients to see and treat. All battling different issues. If you followed in their footsteps daily, you would begin early and stay late. They go without lunch and when urgencies call, dinner goes on hold too. Most evenings are follow-up, catch-up and research for their next day. They tirelessly devote themselves to us.
Just where would we be without them? Now, that would be a frightening world indeed.
One of the most wonderful things about University Physicians' Association, Inc. (UPA) is our physicians. Their contributions to the medical profession in the East Tennessee area are unmatched; while managing their own busy lives as wives, husbands, mothers, fathers, leaders and volunteers.
UPA would certainly not exist as an association without them. Our physician shareholders are business owners of UPA; including over 600 multi-specialty physicians; apart from 400+ clinical staff that total over 1100 members. Their business IS health care. They treat us, our families, and our communities every single day. It's only right that we do all that we can to take care of them.
As we push through this pandemic, greater is their demand but may we all have an opportunity to say, "Thank You"!
Certainly, on this anniversary of National Doctors' Day, we want to thank the physicians at University Physicians' Association for everything they do for their patients, their staff, their families and their community.
We thank you for your tireless dedication in training and research for humanity and science around the world.
Great moments are the work of many, and we honor your dedication more than ever!